Senior Open Greensomes 19.7.22 - Results-prizes
Thanks to all that played in our Seniors Open Greensomes yesterday.
We hope that you enjoyed your day and our course.
Congratulations to Russell Aikman (Tantallon) & Jimmy Dundas (Castle Park) on winning the Norrie Corry Trophy with the best handicap score of the day of 78-15 = 63. They won by 3 clear shots from the all Duddingston pairing of Graeme Cook & Craig McCall.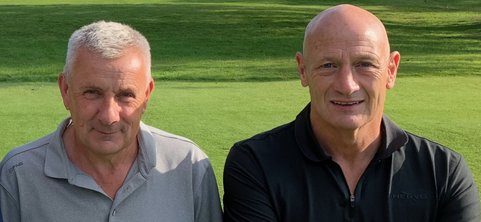 Russell Aikman (Tantallon) Jimmy Dundas (Castle Park)
Also congratulations to another all Duddingston pairing of Mike Armstrong & Gus Santana on winning the scratch prize with an excellent 5 under par score of 67. They beat fellow Duddingston members, Keith Millar & Stuart Smith by 4 shots.
Please click here to see the results and prizes.
We'll look forward to seeing you all again next year!